Specialists with traditions
We specialize in distribution of high quality USB memory sticks (also known as flash drives or pendrives) and mobile accessories.Integral part of our services is surface labeling (laser engraving, digital printing) and other services such as volume labelling and securing data from erasing.
Except standard shapes we also offer production of promotional USB flash drives in unique shapes.
Our design department is capable of creating highly individual projects as well as adapt customers' ideas.
Flashstore is a part of Visual Media, operating on the European technological market since 1999. Our products have received all required certifications and permits allowing distribution on many markets (Europe, America, Asia).
Availability guarantee
We present only those products that we are capable of deliver in fixed time. Most orders are delivered within 14 working days.
Our current stocks make delivery of certain USB sticks and powerbanks possible within 3-4 working days.
Always following trends
In Flashstore catalog you will find products combining modern and unique designs. We offer powerbanks with your company logo and capacity up to 20.000 mAh along with USB sticks equipped with 3.0 USB interface and up to 128 GB of memory. Engraving for our products is being made using high-end fiber lasers.
Our catalog contains exclusive models you will not get from other suppliers. These products have their own category called TOP Collection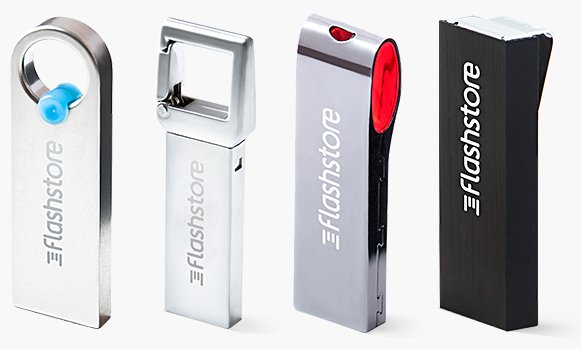 Flashstore quality trusted by many clients
The trust of our clients is our priority. We dedicate our services for both smaller entities and international corporations.
Access to advanced technologies, as well as large production and stock capabilities, gives us the possibility to handle many orders simultaneously. We export our products to countries like Germany, Austria, The Netherlands, United Kingdom, France, Spain and Italy.